EduKick International Football Academy – Soccer Boarding School International
EduKick International Football Academy welcomes footballers 12-26 years of age. EduKick International is the ORIGINAL "INTERNATIONAL SOCCER SCHOOL" and remains still today the BEST, the first privately owned Football & Education Academy in international (since 2001).
EduKick international's worldwide success in developing thousands of international footballers is the result of years of experience mentoring, training, and developing their student players with the equal emphasis always placed on their education while under our care in international at the academy. EduKick international consistently offers personalized service and care for each of its participating student-footballers. They are committed to creating a nurturing, caring academy environment that is conducive to progressing the education, football development, personal self-growth, and inter-cultural competence of the academy players. EduKick philosophy is in its name…"Edu(cation) Kick(a futbol)."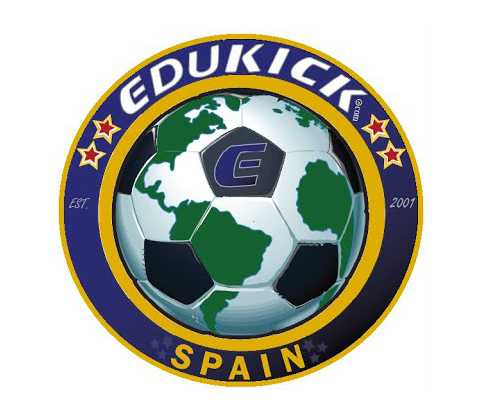 EduKick's President & Founder, Joey Bilotta, now has over 37 years of professional experience working with young footballers in education, counseling, mentorship, soccer coaching, and soccer-related courses. His mission, since EduKick's inception in 2001, is to use his extensive life experience in football, his educational and motivational skills to mentor and assist aspiring EduKick Academy soccer players and their parents in establishing and systematically working towards reaching their personal soccer, education, wellness, and LIFE goals! Mr. Bilotta's SOCCER LIFE COACH services are free of charge for each of the participating EduKick Academy footballers. Learn more about this unique and highly effective ONLINE CONSULTANCY & MENTORSHIP program for EduKick footballers (and their parents) at Soccer Life Coach… https://www.soccerlifecoach.com/
Mr. Bilotta, a former professional footballer, also offers EduKick Academy players access to his affiliate soccer company BEST ATHLETES. Best Athletes is the world's most intelligent, state-of-the-art online software platform that can significantly assist EduKick footballers to get scouted and soccer coaches to become more organized and proficient in building and improving their soccer squads (through data analytics and cutting edge video tools). 
EduKick student footballers interested in pursuing US College and University Soccer Programs can use the Best Athletes in-platform search? Our one-stop-shop search tool not only has a comprehensive listing of Colleges and Universities but also has coach names and email addresses as well as a program overview for each school. Easily share your recruiting profile, connect with coaches and learn about each prospective school.
Any interested soccer player or soccer coach can set up their profile for FREE on the Best Athletes website but EduKick Academy footballers are given FULL ACCESS (free of charge). Start your online profile today at: https://bestathletes.co/ JOIN US for the 2022/23 academic year International Futbol Season! We now have over 21 years of experience hosting academic year student-footballers, youth and adult soccer teams, and football tour groups at our EduKick International Football Academies since 2001.
The EduKick International Football Academy is located in the COSTA DEL SOL (Benalmadena, MALAGA)! This seaside venue in the "COSTA DEL SOL" Benalmadena (Malaga) is a footballer's paradise of sunshine, beaches, mountains, and passionate International football culture. EduKick International is accepting applications NOW. International footballers from 12-26 are welcome to apply for one (1) month to full ten (10) month academic year courses.
Our academic options include private International British or International Secondary School education (grades 8-12). At the British school, courses are delivered in English. To attend the International secondary school a player must have an intermediate level of International proficiency, Academy players 16+ can choose the International Language Study option at our affiliated International language institute (MARAVILLAS) for the intensive International study of 20 hours per week.
The EduKick International Football Academy features daily technical soccer training under our dedicated International UEFA licensed coaches to team. Players also participate in weekly strength & conditioning sessions and are inserted onto a local International football club team for additional evening training sessions, regular tournaments, and regular match play. EduKick International Football Academy also plays "friendly matches" as an academy squad and takes periodic trips against professional International club youth sector teams (Atletico de Madrid, Getafe, Ray Vallecano, Malaga CF, Granada CF, Marbella, etc).
International footballers that register for EduKick International'sworld famous academic year International Football Academy course can apply for and attain the NIE (número de identidad de extranjero). The NIE is a tax identification number in International, or "Foreigner Identity Number" that allows for the international student-footballer to register and play for a local International football club, as any other International player would. This incredible opportunity significantly increases the development of our academy footballers' by allowing them to train and play matches regularly alongside their International teammates, some of the most competitive, and skilled footballers on the planet.
EduKick International, then, provides significantly increased opportunities for its players to be scouted, recruited, and exposed to International clubs. And for our academy's most committed and competitive "HIGH LEVEL" players, we can seek out and secure professional football trials International through the extensive network of International LA LIGA club contacts that EduKick International President Joey Bilotta and his associates have acquired over the decades spent in International as footballers and academy directors.
CONTACT Joey Bilotta, EduKick President & Founder
Email: soccer@edukick.com
Mobile/WhatsApp: +1-289-242-1143 SKYPE/WeChat: edukicksoccer
Tel: +1 (905) 631-9541
Toll-Free North America: 1 (866) Edu-Kick (338-5425)
Edukick International Facilities
EduKick International Football (Soccer) Academy is an elite International football academy for international student-footballers. The academy is located in the Benalmadena (COSTA DEL SOL), with 320 days of sunshine each year, optimizing our players ability to train on quality grass pitches daily!